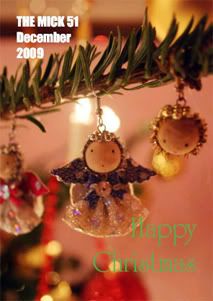 Goth magazine THE MICK 50 and THE MICK 51 are both now up for free download. The only Goth mag in the world which always features cats in every issue! All free, containing interviews with inspiring artists, from yours truly, the longest-running Goth writer in the world. There is also your chance to show Goth Solidarity by helping one of our own, with the Phoenix Marie appeal. Even that includes cats! Details behind the cut.

THE MICK 51 is a trim little Xmas Special with members of bands remembering the best and worst of Xmas and sharing the occasional spooky experience.

By contrast THE MICK 50 is a 148 page monster. 62 reviews, of various hues, some delightful and odd photos, and then the Big Stuff.

There are interviews with the memorably mysterious (((S))) who created one of the catchiest eerily liquid albums of the year, the wilfully provocative Action Directe still taking Goth through an aggressive politicised keyhole, the sleekly combustible, consistently cogent Collide discussing their unusual covers album, the fiendishly cavorting Deathcamp Project who managed sepulchral sensitivity better than most in the guitar-toting ranks, the dangerously deranged but hypnotically imaginativeLa Peste Negra, the lyrically lethal and extraordinary indie-folk noir hybrid Philip Butler and the stupendously sumptuous, deliciously ambitious Scarlet Leaves.

Understandably, the biggest aspect is the Appeal For Phoenix Marie which calls for some Goth Solidarity, with her remarkable and touching life story coming through a combination of interview and photos, which explains her unusual lift-threatening plight, as well as examples of the photos from her, Jody Elliott and myself that can be purchased towards paying her medical expenses, to prevent any acceleration of brain damage at a time when just one year of treatment could pull her back from the brink and lead to a pretty normal, active life again. The photos available include Phoenix Marie and Jody's cats, as well special shots I took at a Big Cat preservation and breeding centre in England, so you can see lions, tigers, leopards, cougars, serval, lynx, cheetahs and the incredibly rare and unbelievably cute Pallas Cats which are like a cross between a cat and a monkey.

http://www.mickmercer.com/themick.html - download THE MICK
http://www.myspace.com/phoenixmarieparis - PLEASE go here to copy and paste the code for the banner below, then pop it into your own myspace/journals/website pages. She has banners designed in various colours to fit most page layouts. If you can friend her then move her page into your top friends it would also be extremely helpful.